FIND THE RIBBONS, GET THE DISCOUNTS:
http://mandateofheavenclothing.com/shop%20online%20clothing%201.html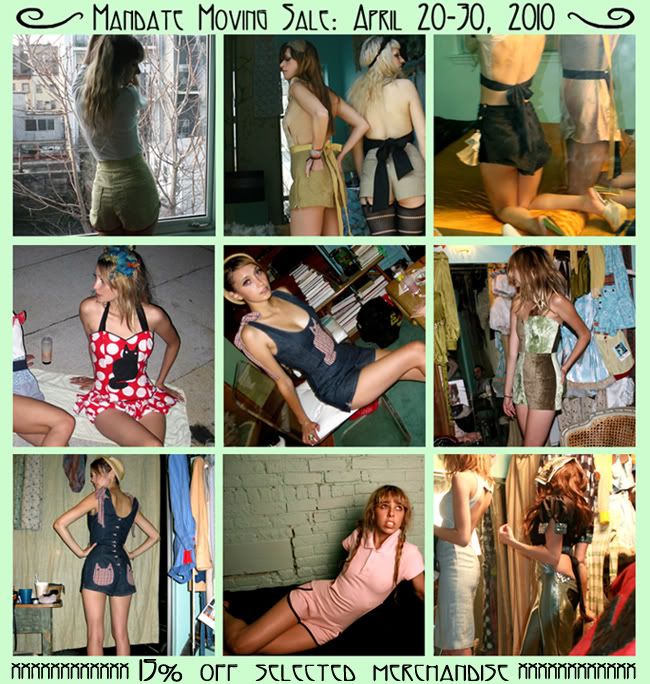 Mandate of Heaven is moving East! By May 1st, we'll have an awesome new store/production studio in Bushwick, BK:)
We've got a whole lot of stuff to transport between now and then, though, so we're gonna thin the racks out to make things a little easier. Thus, it's time for a moving sale!
You've probably noticed that we don't have sales very often. That's because we try to keep our prices as affordable as possible all the time; therefore, there's usually not much room for markdowns. However, the time has come, so please come take advantage! It'll probably be a while before such an event occurs again....
Here's how it's gonna work: stop in during open hours (Tuesdays 3-7:30 and Saturdays 1-6) or make an appointment between now and April 30th and find the pieces with little ribbons tied to their tags (stuff's got price tags now, btw!). These dudes are all 15% off until the end of the month. May 1st is pumpkin time, though- all the prices will grow back to their original size once we reach our new home in the Bush.
Too far away to shop? Never! Check out our Out of Towners Ribbon Sale here:
Forget where to find us? Till May 1st, we're still chilling @ 406 Lorimer St., BK. Hope to see you soon!!