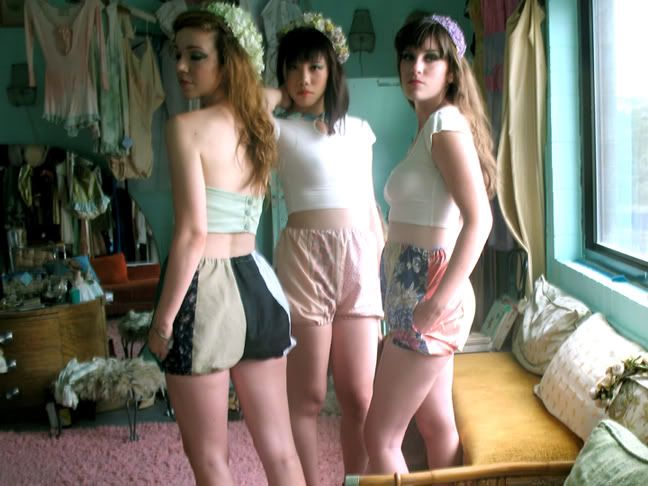 Our interns have awesome taste, so we asked them to design and put together a few pairs of one of kind bloomers from our vast archive of Mandate of Heaven vintage fabric scraps. Naturally, every pair is adorable; and, while perfect for the summer heat, they're gonna look amazing layered with tights, blazers, cardigans, minidresses, kneesocks etc. all through the fall. Check out the lovely ladies themselves modeling their handiwork in the video and stills below, and come back soon for more shots and slideshows of our beautiful and talented summer team.
Each one of a kind bloomer pair is $110;
contact us
for details and ordering info. Oh, and please let us know ASAP if you fall in love (with the bloomers that is- you're on your own with the ladies!). As of now there are only two pairs left, and they likely won't stick around much longer!
BTW, visit this video on
vimeo
to view it in its proper high quality glory.
Ode to Summer Ten Interns Teaser: Patchwork Bloomers from mandateofheaven on Vimeo.
Our interns are awesome. TO BE CONTINUED...
Music: Beirut, "Concubine"
Models: Laura Clothier, Yuan Anne Hua and Suzannah Mullikin
*FYI, those lovely little t-shirts are made from luscious organic knit bamboo. They look great on everyone and feel like butter.
CLICK HERE TO GET ONE
- you'll be super glad you did.*
STILLS: