Our neighborhood is awesome. We keep telling you that, but today we have proof. We're not gonna lie, Mandate is the best, but our little section of East Williamsburg is teaming with worthy destinations.  Our plucky storefront scene is predominantly independent, invariably unique and constantly augmented with new ventures, making it an exceptional hunting ground for the fresh and one-of-a-kind.  Moreover, we can keep our prices much more recession friendly than those in the lands of costlier real estate.   What could be a better atmosphere for superior holiday giftfinding?
Don't waste the season of goodwill fighting over department store bargain bins- you'll just end up with the same crap as everyone else. Instead, come discover some of the best gifts in our venerable city, and spread a little seasonal cheer to a deserving artistic and business community.  Check out our super stylish intern Whitney's take on the best local holiday shopping below, compiled for your reading pleasure. Now you have no excuse to neglect crossing the BQE (or East River…. you know who you are):
MANDATE OF HEAVEN'S NEIGHBORHOOD HOLIDAY SHOPPING GUIDE
….as compiled by Whitney Kessler; edited by Mandate

It's definitely beginning to look a lot like Christmas in our neighborhood.  The holiday arches are up on Grand St., and the local families have busted out the manger scenes en force. But the hood doesn't just look spiffy; it's home to a diverse selection of charming boutiques and vendors, offering gifts with the variety and individuality to satisfy everyone on your shopping list.
This season is full of excuses to get fancy, so start your excursion making merry here at
Mandate.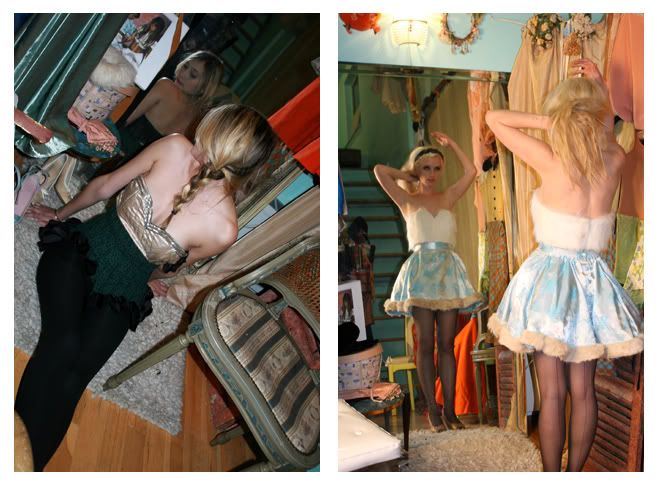 Once you've found your perfect holiday ensemble (or two), head out into the street and support our local economy. Here's a short list of our favorite stops:
LORIMER ST.: STAGG TO GRAND
For super practical and versatile gifts, take a right as you exit Mandate and walk north one block. Look right and treat your eyes to a pleasing display of hand crocheted hats and scarves in every color of the rainbow. A neighborhood lady showcases and sells her matching winter sets here to passer-bys. This happy surprise for the underdressed is more valuable than it may seem.  The virtues of matching winter accessories are vast and underappreciated- ponder them the next time you're late somewhere because your layers refuse to coordinate. Such utility make these sets the perfect backup gifts to have handy.  Stock up on your favorites; the right colors should please anyone with sense.
The same block is home to our local pet shop, Whiskers and Tails. Stop in for the dog, cat, fish, or parakeet in your life- or your favorite enthusiast thereof.
*Awesome gift:  Cat drugs.*  
GRAND ST: UNION TO LORIMER
Continue walking north and take left on Grand. At #529 you'll find a storefront full of loveliness called
Flores Antique Clothing
. New York Magazine says that Flores is the best place to buy vintage summer dresses, but we discovered all kinds of greatness inside; and most items stick to the wallet and gift friendly price range of $25-$50. You'll want to spend some time here, as the selection is vast and worthy of a good look-through.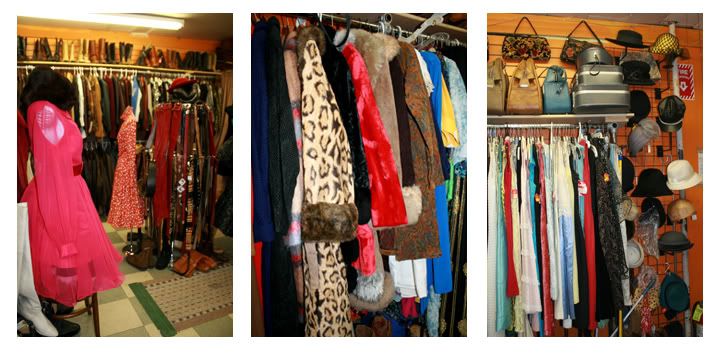 *Awesome Gift: Buy a special friend a one of a kind vintage dress and take her to get it custom tailored.*

Happily for gifthunters, Flores stocks both men's and women's apparel, tons of vintage shoes and bags, and a variety of great hats that hang tantalizingly from the ceiling.
Particularly notable is the impressive, and impressively inexpensive, collection of cowboy boots and leather jackets.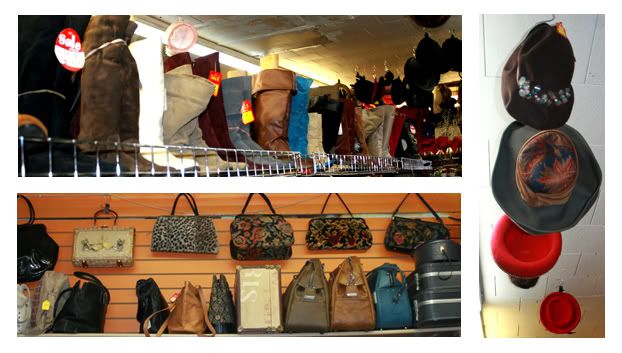 If you decide to make a day of it (as you certainly should), stop by
Le Barricou
, at 533 Grand, for brunch, dinner or a revitalizing afternoon cocktail.Practically next door to Flores, this French bistro is beautiful but unpretentious.
The deceptively quaint entranceway opens to a surprisingly large and charmingly arranged dining space.Order your drink at the rather grand bar, then check out the eatery's impressive wine lounge. Rather hidden behind the dining room, the lounge is equally amazing, with a lovely seating area complete with cozy fireplace.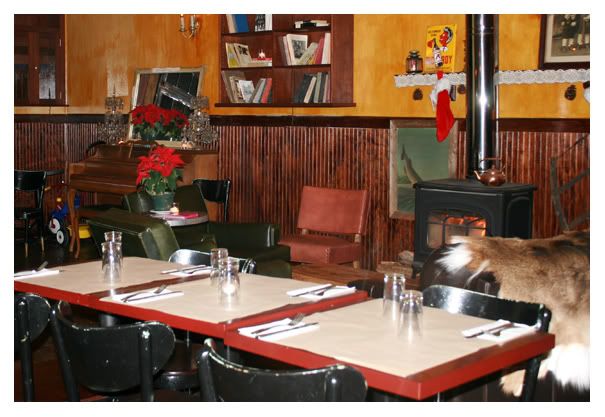 This enchanting back space feels more like the living room of a rustic European home than a Williamsburg lounge. Soak up the cuddliness and regain your strength/buzz. You've got several more stops to go, and you must be fortified.
Aross the street from Le Barricou, at 560 Grand Street, stop into the multifaceted storefront
Fresthetic
. The boys at Fresthetic describe their space as "a new concept shop that provides the community of Williamsburg, Brooklyn a fresh venue to experience a new inspiration in grassroots and independent artistry." It is a "part time gallery, retail and print shop." With an intriguing collection of gift-worthy items within the urban streetwear- art-music-book-film- jewelry genre, it's definitely worth a visit.
LORIMER ST.: GRAND TO METROPOLITAN (AND BEYOND)
Turn left back onto Lorimer and continue north. At #560 on the east side of the street, behind a quaint fenced-in front yard, chills the beguiling
Summer Friday
. This cleverly situated shop showcases hand crafted clothing and accessories from lesser-known designers, providing a range of gift options for both men and women. The loud music and wall colors create an amusing atmosphere and complete a pleasantly consistent overall aesthetic.
Just steps away, in a gorgeous brick storefront on Lorimer and Ainslie, you'll come upon one the neighborhood's gems:
Maiden Hong Kong.
This darling boutique stocks unique vintage and new finds, and additionally serves as a local tailoring shop; it's window display plays on this function with an intriguing assembly line of antique sewing machines.
The innovative yet old-timey interior here is particularly notable- and worth a visit in and of itself- exemplified by coolly clever shelves constructed from comely vintage suitcases, among other novelties. Most of the store's creative fixtures were custom made in Asia, and elegant retro Asian posters expand on this theme. 
One side of the shop exposes an open sewing room, used for in-house designing and the aforementioned tailoring services. The store's loyal customer base counts on the shop girls to tailor all their favorite clothes, including items purchased elsewhere, making it a perfect place to facilitate that earlier mentioned gift scheme.
However, the stock here is definitely purchase-worthy in and of itself. For women, the shop carries cute vintage accessories as well as vintage and new, independently produced apparel. There's also vintage clothing for men, and a small but amazing selection of vintage children's ensembles*.
*Awesome gift:  VINTAGE CHILDREN'S CLOTHING!   Don't know anyone with children?  Buy an outfit and frame it.  They're that cool.*

Sadly, Maiden Hong Kong is closing at the end of the year. However, this depressing news means that if you get there quick, you can take advantage of their giant closeout sale. Everything must go by January, so most prices have been dramatically reduced (and those awesome fixtures may be for sale as well… ask the staff if you're interested). 
DON'T MISS THIS.
For real.
Once you've paid Maiden Hong Kong it's proper respects, take a right on Metropolitan and check out another neighborhood masterpiece:
Huitzilli
, at #624. This beautiful and unique shop specializes in handcrafted Mexican finds. We're particularly in love with the embroidered ponchos, but there are loads of other lovely items, including intricately crafted silver jewelry, clothing, accessories, housewear, blankets, scented soaps, and other awesome novelties. Everything here is fair-trade and hand sourced by Emily, the friendly and knowledgeable owner, who is happy to explain each item's fascinating tale of provenance. Spend a little time here: it's worth it.
* Awesome gift: Huitzilli has the loveliest Mexican blankets we've ever seen. An attractive blanket is a serious living room asset during city winters- a practical gift for practical times.*
Turn left out of Huitzilli and continue on Metropolitan. Cross Lorimer to #540, and the check out the insanely adorable storefront of
Desert Island
. If you're friends aren't lame, you're sure to find someone on your list that will benefit from this amazing comic and book shop. Don't blow you're whole budget quite yet though; you've got one more stop to go.
Walk back to Lorimer and make a left. Continue north to #616 (@ Skillman), home of the venerable 
Brooklyn Kitchen
. If you or anyone on your list is a fan of the culinary arts, The Brooklyn Kitchen alone is reason to come to the neighborhood. An essential stop for anyone hosting for the holidays, this place stocks everything cooking related, from appliances to spices to holiday cookie decorating supplies. The gift options here are endless; our personal favorites include the adorable retro looking cookware and aprons. The space even offers a range of
specialized cooking classes.*
*Awesome Gift:  Sign up and learn how to bake pies for your entire list; or, better yet, or buy a class as a present for a friend. That gift will totally keep on giving.*
From this point you have easy access to West Williamsburg, and a whole other world of shopping opportunities. However, if you're beat and city bound, you also have easy access to the L train. Take a left back onto Lorimer and walk south to Metropolitan. The subway entrance will be waiting there for you. Exhausted and not so strapped for cash? You can probably find a yellow cab in this area as well. But if all else fails, give us a call here and Mandate and we'll hook you up with a car service. When you come to our neighborhood, we've got your back.
In summary: our neighborhood is awesome, and you'd best make it out here soon. Come get your holiday attire from Mandate, and finish off the rest of your shopping while you're at it. The people on your gift list will love you for it, and so will we.
PS  This is by means a comprehensive list. There's more info on our neighborhood to come; so, as always, check back often.
MANDATE LOVES EAST WILLIAMSBURG AND YOU.